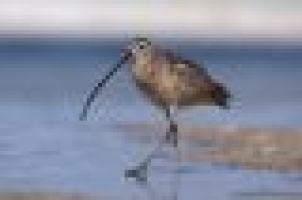 King Curlew
Here's our poem in response to Eiluned Lewis's 'We Who Were Born', which can be read at a place called Poetry Nook, https://www.poetrynook.com/poem/we-who-were-born (they must like it in the Nook, as they present it twice) :>)

Members of Coo & Co opted to expand on the poem by focusing on one of the 'lordly things' mentioned by EL. We invite readers to take a little trip with us, into the marshes to see King Curlew, pictured :>)


Let's go and see
a lordly thing –
in marshy realms,
a splendid king;
he wears a robe
of grey and gold,
his nose is keen,
his eyes are bold.

By day he wades
the marshland dregs
on long-toed feet
below slim legs;
he spears a crab
within the mud
and has his feast
of flesh and blood.

His bed is bare
till February,
that's when he calls
Cur-lee! Cur-lee!
He lures a lady
through the gloam;
they'll raise four heirs
in richest loam.
Poetry by Coo & Co


Read 549 times
Written on 2019-08-05 at 20:04



Save as a bookmark (requires login)


Write a comment (requires login)


Send as email (requires login)


Print text

Increase font

Decrease