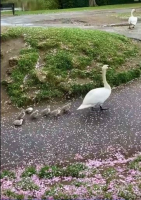 from Coo's Nature Notebook :>)
The 3rd of May, mid-afternoon,
we hoped we'd see the swan-fam soon
and then they came, along the path;
they'd just enjoyed a bubbly bath.

Big George was leader, at the front;
he looked our way and gave a grunt.
His wife was next, dear Zelda-Zee,
and last the cygnets: one, two, three,

four, five, six, seven, through the pinks
of cherry blossom, sipping drinks
of freshful rain as they went by:
a sight most charming to the eye.
Poetry by Coo & Co


Read 67 times
Written on 2021-05-09 at 19:19



Save as a bookmark (requires login)


Write a comment (requires login)


Send as email (requires login)


Print text

Increase font

Decrease