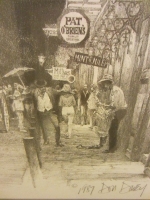 Spare Change and the Blues
pennies fall from heaven
making music with nickel and dime chimes
dancing in the wind, blowing dreams
once written on the lips of blues singers
who haunt these streets and alleys
with their howls and moans and wails
when hearts and souls had voices
where shoeshine boys beat out rhythms
and pennies fall from heaven into tin cups
and the French Quarter is fine and dirty
but, so divine in its regard for the past
and the present. Well, sometimes, it may not be pleasant
but its real. Something you can feel; way... down.. deep...
in your soul...Hot and Sultry! Pennies from Heaven!
Angels walk these streets with tainted wings, such things
live amoung us. I trust you know this. You should of course.
All spiritual beings live in the songs and lives, and streets and eyes
of the Quarter, the Nickel and Dime Chimes and the Pennies falling
from Heaven.
Poetry by Kathy Lockhart


Read 499 times
Written on 2016-06-26 at 06:34



Save as a bookmark (requires login)


Write a comment (requires login)


Send as email

Print text