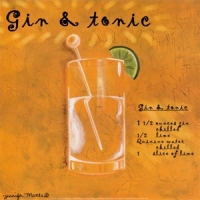 Just coming from a night of teaching 3 and 4 year olds. Awwwww the crisp refreshment of a gin and tonic with a twist of lime. : )
Tanqueray Take Me Away
Is the tonic in the tonic
Or is it in the lime?
Is the medicine in the ice
That makes me feel so fine?
Or is it in the liquid
Covered in freezer frost?
Is the elation that overtakes me
From the stress that is lost?
Or perhaps, my dear friend,
It's the Tanqueray gin
That's contributing to my grin.
kathy lockhart
6/19/07
Poetry by Kathy Lockhart
Read 902 times
Written on 2007-06-19 at 04:16



Save as a bookmark (requires login)


Write a comment (requires login)


Send as email (requires login)


Print text