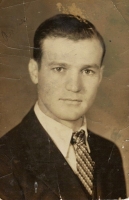 I just came across this picture of my daddy at about age 20. He died 5 years ago at age 94 still a very handsome man. But most of all his beauty came from his soul.
A Poem for Daddy (Amos H. Lockhart)
I smile when I see your picture
and look into your eyes.
I see a man of great stature
of honor, not just of size.
When I was a little girl,
you looked so tall and strong.
I knew I was safe with you
because you did no wrong.
You'd build me playhouses,
climbing gyms, and such.
I knew you loved me
'cause you cared so much.
Often you'd take me to creeks
and walks on forest trails.
I loved to sit in your presence
listening to your tales.
I worked with you one summer,
helped paint a house one time.
I was just a little girl
but you made me feel so fine.
You encouraged me to try things
to never give up or in.
You honored me by giving
your time
your love
your grin.
It meant so much to me
to see approval in your dark eyes.
You only told me the truth of life;
You never told me lies.
You showed me how to parent
to give to those in need.
You showed me the way to live;
you planted a wonderful seed.
Now as my years turn to autumn,
I thank you for your love.
You introduced me to my faith
and to the wonders of Heaven above.
You deserve much more than these words
but this what I can do
to show you in this very small way
how much I'll always love you.
katty
(my father's name for me)
9/4/07
Poetry by Kathy Lockhart


Read 1208 times
Written on 2007-09-05 at 03:45



Save as a bookmark (requires login)


Write a comment (requires login)


Send as email (requires login)


Print text
Pieces of Life
by
Kathy Lockhart