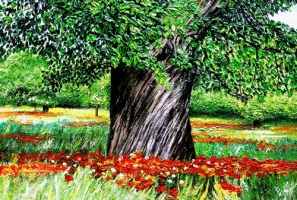 Mitra McQuilton artist @ www.threadpainting.co.uk/images/oaktree3.jpg
metaphor of the evolution of love
inspired by love, for love, and written with love
for you Michael
The Tree Of Love
The Tree of Love reaches deep and soars high
While roots seek nourishment, branches reach to the sky.
A seed at first, then a sapling it becomes
Gaining in strength as time goes on.
Tenderness of care feed and provide
A fertile ground where love can abide.
Through gentle warm days and frozen cold nights,
The tree endures through blessings and blights.
Though droughts may plague and storms batter and tear
The Tree of Love will always be there.
For the foundation is planted in solid ground;
The never-ending love is perfectly sound.
Fruits are produced and spawn new life
As the Tree of Love involves husband and wife
Bearing and sharing in solidarity
The Tree of Love grows beautifully.
Kathy Lockhart
11/5/07
Poetry by Kathy Lockhart


Read 1267 times
Written on 2007-11-05 at 01:23



Save as a bookmark (requires login)


Write a comment (requires login)


Send as email (requires login)


Print text
Pieces of Life
by
Kathy Lockhart