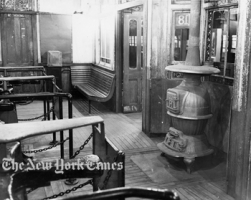 When I was a child, we had a black pot-bellied coal stove that daddy brought into the house in late fall for our winter heat. It was very big and took up about a third of our living room. It heated the whole house.
The Monster in the Corner
Sitting in the corner on a cold winter's night
Dark and ominous, raging, a fiery fright
Hot burning coals like teeth glowing red
With a snarl and spit, he radiates dread.
Listen! Hear the crackles of the bones
Inside the belly of this monstrous stone.
Ravenous he is with hunger unabated.
Feed me! he demands, roaring; never sated.
The heat of his breath singes and fries.
Ashes are what's left of those who've died.
Soot-filled, pungent, flaming smoke
Billows black from his creosoted throat
Peppering vestiges upon pristine snow
Covering roof tops and the ground below.

Momma, I cry, as a child in the night,
Let me sleep in your bed; that monster is a fright
It's OK baby. No need for alarm
It's only the stove that keeps us warm.
He's sittin' in the corner growlin' at me...
I see the things that momma don't see.
Kathy Lockhart
1/11/08
photo by: Photo by Fred J. Sass / The New York Times Photo Archives
The stove in this picture is similar to the one but in our small living room it seemed huge to me as a child.
Poetry by Kathy Lockhart


Read 1241 times
Written on 2008-01-11 at 09:49



Save as a bookmark (requires login)


Write a comment (requires login)


Send as email (requires login)


Print text
Pieces of Life
by
Kathy Lockhart