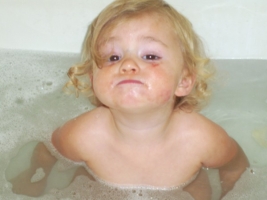 While composing the poem, she was in the kitchen pouring a whole bottle of syrup into a bucket. Of course she had to have a bath! Now it's time for a nap (for Nana anyway).
Following Miss Daisy
She comes to me 3 times a week.
With her hair in ringlet curls,
She adds a new dimension
to my often lonely world.
She wears a bow that tries to keep
her wispy hair in place.
It's important, you know to see her
cute little brown-eyed face.
She talks to me with great inflection
and sometimes I understand
That she must relate to me
Something extrodinarily grand.
Her latest tale is repeated
almost every single day,
When she tells of the puppy she saw,
in the pet shop a week ago today.
Well, that puppy was excited
and he pottied inside his cage.
She tells me over and over again
"dog pooped,"-- so important at her age.
So today when she was quiet,
I found her making up her face
Sitting on the rug, putting lip stick on
with such girly-girly grace.
She looked up from her work
and showed me her favorite toy.
It was the lip gloss she found
and she was spreading it with joy...
all over her mouth with a little
on her perfect button nose.
She offered, "you wan some?"
as she most adorably posed.
Well now she is off again
to areas where she shouldn't be.
So I must end this poem
And let her entertain this nana, me.
Poetry by Kathy Lockhart
Read 1180 times
Written on 2008-08-27 at 17:55



Save as a bookmark (requires login)


Write a comment (requires login)


Send as email (requires login)


Print text