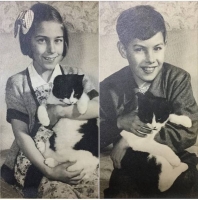 No Day Without You
I cannot remember
A day without you.
You were there
Before me,
You made my path
So much smoother.

I was younger
But often it seemed
The other way round,
I was your ears,
And your wall
Against the world.

I loved to be
By your side,
You made me
Tough and brave,
Always ready
For new horizons.

Though we are
Now far apart,
Yet still I feel
Your fine silken thread
As a comfort,
Across the miles.

Ours is a bond
Unique, everlasting,
No-one can cut
This Gordian knot,
This special kinship
Of brother and sister.

Poetry by Marie Cadavieco


Read 671 times
Written on 2018-11-27 at 21:50



Save as a bookmark (requires login)


Write a comment (requires login)


Send as email (requires login)


Print text

Increase font

Decrease