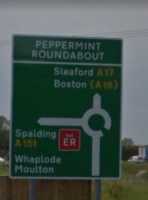 An English journey
We went up to Boston. In the rain. We really should not have bothered. Going shopping in a place you know, in the rain, is not much fun. Going shopping, in the rain, in an unfamiliar place, is torture.

We bought nothing, we got bedraggled and wet, and cold! It is, after all, an English summer. I was looking for a summer dress but would have snapped up a padded jacket, had I found one.

But the delightfully English placenames we passed on the way back from Boston revived my normal joie-de-vivre.

Heckington Fen, Swineshead, Fosdyke, Spalding, Whaplode, Cackle Hill, Holbeach Hurn, Holbeach, Holbeach Clough, Holbeach St Marks, Holbeach St Matthew, Gedney, Gedney Drove End, Gedney Dyke, Long Sutton, Little Sutton, Sutton Bridge, Walpole Cross Keys. So English. So wonderfully, wonderfully quaintly English, some villages with the same name but with their church name tacked on the end to distinguish them.

And then there is the deliciously named Peppermint Junction, recently improved for safety reasons, and re-named Peppermint Roundabout.

A good day, then.
Words by Marie Cadavieco


Read 567 times
Written on 2019-08-15 at 01:28



Save as a bookmark (requires login)


Write a comment (requires login)


Send as email (requires login)


Print text

Increase font

Decrease