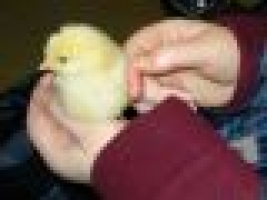 Another response piece :>)
Learning Barn
The latest poem to be brought to the attention of Coo & Co is Norman MacCaig's 'Summer Farm', https://classicalpoets.org/2018/08/27/analysis-of-norman-maccaigs-summer-farm/ :>)

We came to an understanding (of many possible understandings) of the piece through our reading of the Classical Poets analysis. However, what the poem brought most strongly to us was the memory of being a bit high at the Cotswold Farm Park. Here, our FT describes her experience of holding a dear chick...


Outside it's hailing fast and thick
on grass and gravel, tarmac, brick;
a whiny windy final fling
before the milder days of Spring.

I shelter from this late-March storm
inside the Learning Barn. It's warm;
my navy raincape's almost dry.
I hold a chick; I'm feeling high.

The chick is yellow, fluffy, sweet;
its orange feet are very neat.
It seems to settle in my palm;
together we are very calm.

''E likes you,' says the farmhand, Stan,
an easy-mannered kind of man.
The chick cheeps softly through its beak;
I smile, too full of love to speak.
Poetry by Coo & Co


Read 616 times
Written on 2019-07-29 at 20:05



Save as a bookmark (requires login)


Write a comment (requires login)


Send as email (requires login)


Print text

Increase font

Decrease