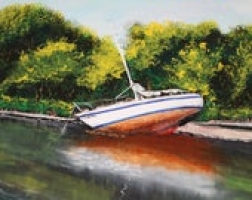 once, we sailed
Would you know my gait
If merely my words parade,
While everything else lay hid?

Perhaps, should you have stayed
tarried a while longer and shared
In my thought and conversation.

Perhaps your soul recalls-
Once, some time ago, as I know
We rode the waves of our verse.


Poetry by arquious
Read 581 times
Written on 2019-10-23 at 08:58

Tags Poem&nbsp



Save as a bookmark (requires login)


Write a comment (requires login)


Send as email (requires login)


Print text

Increase font

Decrease