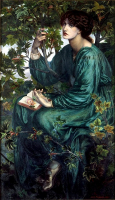 After a painting by Dante Gabriel Rossetti (1828-1882).
The Day-Dream
As listless as the bloom within her hand,
the lady gazes into vacancy:
her lavishly cascading dress itself
a deep dream of cool blue, a water-weave.

Entwined in leaf-life, she grasps the slim branch
of a tree that shares her youthful suppleness,
we note a tristful tilt, a prim reserve
about her form, black hair bound tight, soft feet

in sandals firmly clasped as if to guard
against the mutinies of lawless June,
against the myriad anarchies of earth ---

a dream of Alighieri, of Verlaine,
her moon-pale skin unblushing in the sun,
her lips the speechless rhymes of sonneteers.
Poetry by Thomas D


Read 148 times
Written on 2020-07-30 at 09:20



Save as a bookmark (requires login)


Write a comment (requires login)


Send as email

Print text

Increase font

Decrease