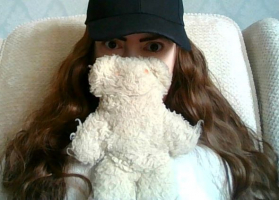 Today's NaPoMo challenge is, 'Write an ode to an inanimate object' :>o
Of course, at Coo & Co we do not consider Scruffy an inanimate object, but the persons issuing the challenge most likely would, hence our FT's ode :>)
Ode to Scruffy
Dear furry thing named 'Scruffy' for thine form,
   the fur uneven, rough and smooth in turn,
yet always pleasant to the touch, quite warm,
   and thine expression playful, never stern;
thine eyes are orange felt and almost round,
   the nose is absent, but there is a square
      of darker fur beneath the orange eyes;
and mouth, ah, what a smile one day I found
   in one wide neck crease, such a happy bear
      thou seems to be, enjoying endless highs.

Thou art to Teddy Bear in thine strange shape
   as I am to the Human Being in mine;
let us not moan on this, but seek some jape
   involving friendship, music, poems, wine;
our truth might not be beauty; what of that?
   we say, it matters not if ye be odd --
      accept thyself, make merry every day,
put on pyjamas and thine favourite hat;
   be glad to be described as Silly Sod
      and Weirdo, Freakshow, as some like to say. 
Poetry by Coo & Co


Read 59 times
Written on 2021-04-17 at 18:52



Save as a bookmark (requires login)


Write a comment (requires login)


Send as email (requires login)


Print text

Increase font

Decrease