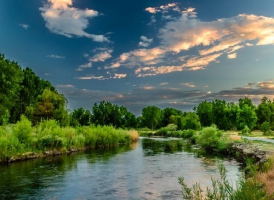 This one 'I baked earlier'; but I thought it mght be a reposte to Alan's Brain poem
The River
Consider the river.
Is it just in its water?
Or is it just in its banks?
Surely, it is neither;
and yet, it is both.
Consider ourselves.
Are we just in our mind?
Or are we just in our body?
Surely, we are neither;
and yet, we are both.
The river will eventually
merge into the sea;
just as you and me,
will merge into eternity.
© D G Moody 2021
Poetry by D G Moody


Read 203 times
Written on 2022-04-20 at 19:35

Tags Life&nbsp Death&nbsp Eternity&nbsp



Save as a bookmark (requires login)


Write a comment (requires login)


Send as email (requires login)


Print text