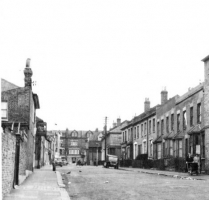 'The Avenue' was really a place... now demolished and built upon... and in this old photograph my old bedroom window is looking out at me. 'The Bank' weas a hilly scrap of wild countryside where we kids would play.
COMING HOME
Do you remember
'The Bank' we played on?
and 'The Old Brown Jug'
with those tingly
cider ice lollies?
Such a great time
to have been alive
wasn't it, Jennifer?

I went looking
for 'The Avenue' today -
it's all gone. No sign.
New houses. New people.
No sign of community.
No kids playing
on the ashphalt street -
like we played
on the cobbles
and the grassy scrap
of wilderness
'The Bank' provided.
I searched in vain
and I actually cried
that it is all lost.

I'll be home soon
look after yourself
and look after
our little world
won't you?
I need your sanctuary,
your treasured love,
and the reality
of our happy home.
© griffonner 2022
Poetry by Griffonner


Read 104 times
Written on 2022-04-30 at 09:48



Save as a bookmark (requires login)


Write a comment (requires login)


Send as email (requires login)


Print text