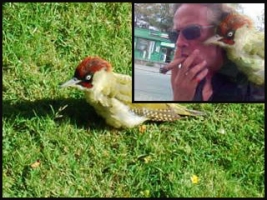 Photo: Sylvie & Kkc
I KNOW THIS BIRD IN LONDON...
Yes, it is the same bird
you took the picture of
walking about confused in your garden
I knew I could not trust it
stupid bird
but the white Dows where to quick for me
and I never really liked the colour
or the attitude of those fat mail pigeon's
For weeks I had it here
in front of the screen
goggled all kinds of maps
to make it understand
said it had worked for Postman Pat
cocky bastard
it`s a giant red-headed woodpecker
by the way
peck on her window I said
when she sees you
pull out that note under your wing
where the flight number is
for her to come
How hard can it be I wonder..???
I thought I flapped my elbow
trying hard to put the note with my mouth
under my arm to show it how
drawn so many pictures
but no
pip, pip and the sound of it made me
very suspicious
You can rest on a oil rig I said
they got lot of food there
just ask a seagull
But anyhow
it made it to your garden
not bad at all for a first try
When it comes back
I teach it something else...

Just keep an eye out the window, darling...
Poetry by PapaFahr


Read 1203 times
Written on 2008-06-27 at 00:22



Save as a bookmark (requires login)


Write a comment (requires login)


Send as email (requires login)


Print text

Increase font

Decrease