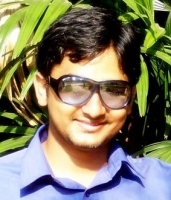 I WILL REMEMBER EVERYBODY. Bye all
MY LAST DAY IN POETBAY
Hi All,
This is my last week in Poetbay. First of all thank you for your kindness, sense, criticism, poetry, beauty, music...everything....
Once I believed that I can't write in English...slowly I started with writings in English. Through all of you I believe I got a big and fantastic platform to perform. I don't know weather I succeeded on it or not. That I am leaving to you. Please everybody keep writing, I will be waiting for your beautiful poems.
Sometimes poetry is like
A butterfly
We cannot expect
That it will lift a stone.
I was nobody; still I feel I am somebody. I am feeling great that some of you had read me once in a while.
I will be back on a day
When I believe again
Some is there to write again
When I get new words
New structures
Instead of this boarding same words
And same imageries.........
Thank you all. In the end I would like to hear from all of you.
With thanks & regards,
ANOOP.M.R
INDIA
Poetry by anoop.m.r
Read 1155 times
Written on 2009-03-25 at 07:46



Save as a bookmark (requires login)


Write a comment (requires login)


Send as email (requires login)


Print text