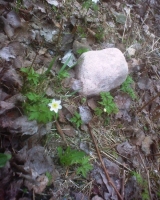 It is what it is, I thought that it will be ok to share this one with you. *enjoy*
. . . who knew everything.


If you ever have a question that hinders you from being yourself; find a stone, place it in your palm and ask the question . But listen carefully to the silence while asking the question and if the stone doesn't speak to you, return back home. Alone. The second time, when you are ready, you will repeat the answer to the stone. If the stone has no objections then you have nothing more to ask.
Short story by night soul woman


Read 663 times
Written on 2010-12-01 at 03:38

Tags Riddle&nbsp Philosophy&nbsp Process&nbsp



Save as a bookmark (requires login)


Write a comment (requires login)


Send as email (requires login)


Print text