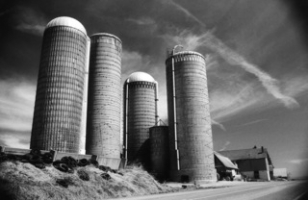 A true story. The events happened more than fifteen years ago, but I wrote it on an envelope this morning before I got out of bed. I thought jim might get a kick out of it.
Down on the Farm
We got a call from Hart Rockwell
He had a down cow
He'd already given her a bottle of calcium
And she still wouldn't get up
That's the problem with farmers, nowadays,
They try everything before we get there
So we have nothing left to try.

Eileen went out to the farm
She gave the cow a bottle of dextrose
It wouldn't get up
She gave it a shot of Recov-R
It wouldn't get up
They slapped the cow,
Kicked her, yelled at her
She wouldn't get up
They used the electric cattle prod
She sat there, calmly, stubbornly,
Like a cow.

Eileen gave up and got back into the truck.
Hart Rockwell called an hour later
He'd figured the cow was a goner
So he shot her between the eyes
I don't know much about guns
So don't ask me what with.
What Hart Rockwell didn't know is
It's not the brain between the eyes,
It's the frontal sinus.

That one shot was all the encouragement the cow needed
She got up and went to the feed bunk and started eating.
Hart Rockwell called a few months later
The cow was back to being one of his best milkers
Even with the bullet in her frontal sinus
But she had a snotty nose from time to time.
Poetry by Nancy Sikora
Read 667 times
Written on 2011-01-20 at 03:19



Save as a bookmark (requires login)


Write a comment (requires login)


Send as email (requires login)


Print text

Increase font

Decrease