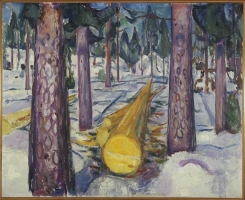 Free verse or fable? Originally inspired by Edvar Munch's painting "Yellow Log" Direct link to the challenge: http://poetbay.com/themeView.php?themeId=21
Make a point?(challenge)


If I could I would place "The Scream" facing the "Yellow log"
"There you go Dear Edvard Munch! Was that what you had in mind?"
A painting took another painting for a walk Oh how they were bored
with visitors tilting their heads, right and left Shaking their heads while
biting or licking their lips some would bite their nails before their Aha
moment others would cross their arms Take a step back Confirm and
then leave Some did take a chair and sit there with them for hours...
"Oh how I wished they could take the Yellow Log out from me" Said
the "Yellow Log" Then I would be a meaningless painting."

"What? do you think that if I was yawning instead of screaming
it would make a difference? I give meaning to the other two on
the other side of the bridge Said "The Scream" and what if he
painted them first and then me because without me they
become meaningless and who cares for two strangers that are
not here, right here, facing you No - one gets that deja vu!?"

To be continued?
Short story by night soul woman


Read 929 times
Written on 2015-01-21 at 02:21



Save as a bookmark (requires login)


Write a comment (requires login)


Send as email (requires login)


Print text