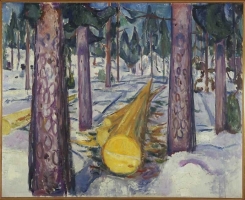 From me to you
Find a chair, sit next to me. (challenge)

"On a long enough timeline, the survival rate for everyone drops to zero."
Fight Club


Like everything that shines is not gold and silver can be turned to gold. Death is the golden winner and life is the silver fighter that keeps evolving keeps becoming the seemingly impossible: eternal. The incorruptible process of transformation is eternal no matter what kind of transformation it is. Death is the threshold of transformation.
Like the golden log in Munch's painting that will eventually transform to something else regardless if it is going to be exploited by humans or become shelter for small animals or simply remain abandoned.
The memories of the tree, the tree rings are exposed to plain view but the tree rings are the eyewitness that narrate about the environment and weather conditions the tree endured perhaps measured up to while growing up and not what its pure nature is.

What the yellow log will become to others. Humans, small animals or the soil does not define it. Remember that.

Poetry by night soul woman


Read 873 times
Written on 2015-01-23 at 02:00



Save as a bookmark (requires login)


Write a comment (requires login)


Send as email (requires login)


Print text