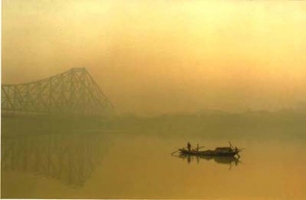 I love Nature; Dawn and Dusk are my friends; Sunrise to me ethereal, Sunset-passionate. I sometimes get up before dawn and drive out to different locales just to capture sunrise in my camera...
Dawn at the River Huglee
On that wintry morn,
I woke up at dawn,
The frost was still on the prowl-
It had curled up over the town,
And then quietly settled
on the rooftops, trees an' grassy grounds.

I took a cab and
braved the cold right across the town
to reach the famous Hawrah Bridge
to capture it at dawn:
The mist was hovering above the river
Like vapours rising from hot springs,
World was cloaked in diaphanous cover:

And then I saw the sun rise slowly over the river:
The contours of the town slowly began to appear,
Fishermen sleeping in their boats began to stir,
The early-birds started to steer afloat their barges,
And embark on days journey far into the deep,
To catch their daily haul of fresh fish and water-weeds...

Sea gulls were soaring gliding past me,
Birds chirruped their morning 'ragas' in pleasant cacophony...

People started coming for their 'dip' in the morning,
Singing their religious holy chanting...

It was like Creator himself waking to His Creation...

The quite of the morn was mesmerizing,
Calm settled on my soul as I took the scene in...

And I captured this scene in my mind-
To savour it at all times in contemplative frame of mind...



Autor: Zoya Zaidi
Aligarh (UP), India
Copyright©: Zoya Zaidi
Poetic description and photo by and © Zoya Zaidi

Note: I had to fight with the guard
To let me into the habour-
you see the ticket window won't open till after seven,
and I had convince him that sun won't wait till then-
I think the image was well worth the try...


Poetry by Zoya Zaidi
Read 1066 times
Written on 2006-12-17 at 07:36



Save as a bookmark (requires login)


Write a comment (requires login)


Send as email (requires login)


Print text