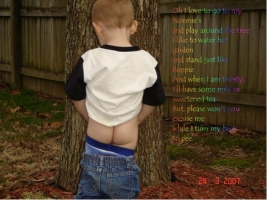 Lori is a dear friend of mine. This essay was written by her, the picture taken by her, and the poem was written by me. Thomas also was the ambassador child for MArch of Dimes for 2 years. He is her grandson.
Thomas and The Tree
Thomas was due to enter this earth on or around
January 12, 2005. He chose not to wait till then. He
made his grand entrance on September 27, 2004! He was
born at 26 weeks gestation. He weighed a mere 1 pound
and 9 1/2 ounces! Imagine, holding a 2 pound bag of
brown sugar , he did not even weigh that! He was 12
1/2 " in length. Look at a ruler and add half an
inch, that was him, stretched out from head to toe!
The Doctors told his parents that he may not be able
to withstand a ventilator, his little body may not be
able to accomodate it. If he could, they would put
him on one. The Doctors then informed his parents
that he may have numerous complications, such as
cerebral palsy, mental retardation, fine motor skills,
cognitive skills, to name a few. Thomas spent 3
months in the NeoNatal Intensive Care Unit at a local
hospital. He endured a roller coaster ride while
there. He was prgressing along then took a turn for
the worse....he was trying soooooooooohard to prove to
them that he could do it all on his own, that his
little body was turning gray and shutting down. It
was taking a tremendous toll on his little delicate
body! He was put back on the ventilator and
recovered. His mommy finally got to hold him on
October 30, 2004! Imagine, having a new baby and not
being able to cuddle him to your chest for over a
month! Thomas was allowed to go home when he weighed
over 4 pounds. He went home December 17, 2004. His
mommy said it was the best Christmas gift she could
have ever received!
Thomas has progressed so well. He is now 2 1/2
yrs old. He was toilet trained at 18 months. His
Doctors were amazed when he went for his Neurological
Evaluation. They look at him as if he were 3 months
younger than actual age, due to his early delivery.
He was 15 months in their eyes at that time. They
told us then that they normally follow Preemie babies
until they reach school age, 5 to 6 years old. They
said they doubted that they would be following Thomas
that far. He is able to distinguish colors, shapes
and identify animals and their sounds. He sings and
dances, runs, repeat finger plays. He is able to work
his DVD and VCR player and is able to identify the
movies by looking at the label, weither it has writing
or pictures on it! He has a wonderful sense of humor!
He is truly a blessing and a miracle! We are
constantly amazed with his accomplishments! WE love
him dearly!


Lori Kidd
Thomas and The Tree
Oh I love to go to my Nonnie's
and play around the tree
I like to water her garden
and stand just like Boppie
And when I am thirsty, I'll have
some milk or sweetened tea
But, please won't you excuse me
while I turn my back to pee.
Poetry by Kathy Lockhart
Read 986 times
Written on 2007-03-27 at 04:37



Save as a bookmark (requires login)


Write a comment (requires login)


Send as email (requires login)


Print text