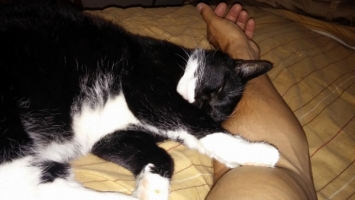 Meet Tuxedo Cat
My new cat sports a tuxedo
He was born in his formal wear
Two pairs of white spats four paws,
My new cat is quite a gifted conversationalist
At innovative lounging something of an expert specialist
A look that says, 'aren't I neato?'
It's the incredible tuxedo.


Poetry by Chaucer Whethers


Read 994 times
Written on 2014-09-11 at 01:17



Save as a bookmark (requires login)


Write a comment (requires login)


Send as email (requires login)


Print text
Really?
by
Chaucer Whethers