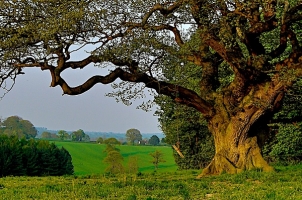 A comparison of ideas of seen and unseen
I Am A Tree
I am a tree
See my trunk--
scarred, knotted, curved with secret nooks for hidey-holes, scaly bark for climbing ivy, and quick escapes for frightened squirrels, while hiding the life of the unseen crawly things which work unknowingly together as one.
See my branches--
full and reaching, ever expanding, growing to suckle the sun, holding nests of hornets and birds, sheltering and hiding all things wicked and good, without judgement, while bearing all forces of nature.
See my leaves--
in their darkest green of Summer, full and alive with shade and shadow on hot and thirsty ground, and then in the glory of dying, their beauty is shown as Autumn color splendor, softly falling in cooling breezes, lazily lilting upon soft grasses.
See my fruit--
it is my nature to produce, to offer up sweet, fragrant flowers, turning into food to replensih and give back, creating my own seed, ensuring life goes on inspite of death. A cycle, a circle of perfection, as all nature is in balance.
Below, seek my roots--
as hidden from view, without notice or adornment, vital to feed and nourish. These roots are the unseen branches growing to suckle the source of life eternal, the streams of goodness, beauty, purity, and hope. From the richness of the soil, and from the spring of living waters, come the source of life for all that's glorified above.
~~~
Poetry by Kathy Lockhart


Read 440 times
Written on 2016-11-08 at 22:24



Save as a bookmark (requires login)


Write a comment (requires login)


Send as email

Print text