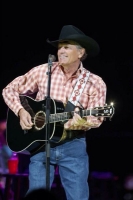 Listening to George Strait takes me back 30 years and I still get those feelings in this aging body that I felt way back then. Oh it is so magical! By the way, he's still hot! This has some variation of lyrics of his songs interspersed throughout.
George Strait To My Heart (A love letter)
Dear George,
Do you love me?
Do you wanna be my friend?
Check yes or no...
Sweetheart, did I take your chair?
Let me drink you a buy and let's take a chance.
You look so good in love, my darlin'.
I still want you.
Will you always be the man in love with me?
Cause if I know me, you'll turn my heart upside down.
Now I'm wrapped in the arms of love by you, The Fireman.
Baby, you are smoldering hot!
On our way to Old Mexico, we could make Amarillo by morning.
And, Darlin', I'll be carrying your love with me.
So, Baby, write this down, take a little note.
Tell yourself that I love you, Trubadour.
I cross my heart.
So, please Cowboy, don't ride away.
Kisses,
Kathy
Poetry by Kathy Lockhart


Read 352 times
Written on 2017-07-21 at 05:51



Save as a bookmark (requires login)


Write a comment (requires login)


Send as email

Print text