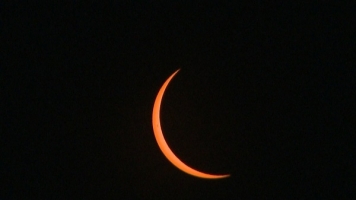 This is the eclipse as viewed from Floyds Knobs, IN at 96% . Floyds Knobs is where I live. Louisville, KY is about 5 miles south from here. Hopkinsville, KY, which is about 2hrs SW, had a total eclipse which meant they went totally dark. Awesome!
Eclispes of Unity
I saw it today
The eclipse happened
And I saw the crecent shape of the orange sun
The moon shadow was black, leaving a smile for awhile
Oh, I was jubilant, dancing like a child
It was a glorious few moments
As all that mattered was in the sky
And others dropped their hate and loved one another
Together across the USA
We watched something bigger than ourselves
I rejoiced and said, "Hallelujah!"
Please, cannot we hold on to this beauty of unity
For more than we are?
Poetry by Kathy Lockhart


Read 371 times
Written on 2017-08-21 at 23:00



Save as a bookmark (requires login)


Write a comment (requires login)


Send as email

Print text