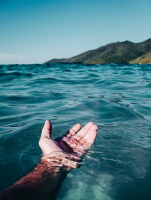 Image courtesy of Pexels - Victor Freitas

My wife and I have dear friends, the wife of whom is now on a gradual loss of memory and everyday tasks. We do our best to help, as her husband tries to cope.
Slipping into the Water
He fears she is slipping away,
slipping now into the water.
He take his stand on dry land,
but he cannot hold her there,
she's slipping into the water.
How he tries to hold her there,
holding her above the water
but try as he might he cannot
hold her, she's slipping away;
until one say she will merge,
becoming one with the water.

© D G Moody 2022.

Poetry by D G Moody


Read 76 times
Written on 2022-07-31 at 16:52

Tags Dementia&nbsp Loss&nbsp Coping&nbsp



Save as a bookmark (requires login)


Write a comment (requires login)


Send as email (requires login)


Print text

Increase font

Decrease