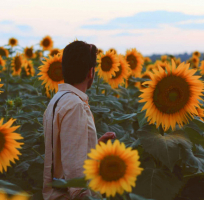 WISHES IN A FIELD OF DREAMS
I wished for sunflowers to lift their heads.
Feeling the warmth of your breath
they gently sway in tune with my love.
I wished for passion and earthy sweat
feeling every inch of your sweet skin
its totality, outside and in.
I wished for starlight to sprinkle dust
that sparkles like fireflies in the night
That I might see your eyes light up.
I wished for soft warm welcoming sand
to feel it bathe my eager feet
while wavelets lap at your tenderness.
I wished for nectar to quench my thirst
and found the memory of your first kiss
that took me to paradise and beyond.
But above all these things I desire
it is more time that I need the most -
to spend over and over again with you.
© Griffonner 2023
Poetry by Griffonner


Read 120 times


Editors' choice
Written on 2023-09-22 at 11:33



Save as a bookmark (requires login)


Write a comment (requires login)


Send as email (requires login)


Print text

Increase font

Decrease