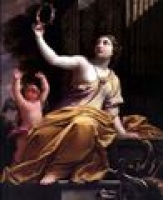 The muse erato sits on the shoulders of many poets. Here, erato inspires a paraphrased conversation of dreams expressed.

Inspirational Dreams (A Poetic Encounter With Dino)
Where is your heart?
Do you hold it in your right hand or your left?
You could enfold it between the two
Or just give it to me.
It is on a silver platter in front of you.
I gently lift it up and
place it inside next to mine.
But mine is not there.
I have given it away.
It belongs to you.
A very good exchange.

I was unfortunatly up most of the night
I am very tired.
It is taking all my will to lift my tea cup today.
In your exhaution,
Let me help to tenderly
place that cup to your lips
while stroking the back of your head
giving you comfort.
Here lay your head in my lap
and let me soothe your troubles away.
You're so sweet, I may fall asleep.
Then, I will watch you sleep and be happy.
And I shall dream of angels and princesses,
wings of gold and silk draped,
floating the breath of cherubim .
As I watch your eyes move while you dream,
I will lightly kiss each one,
then your forehead,
the tip of your nose,
and at last, press my lips gently against yours.
I will be careful not to wake you for
you need your rest.
I shall leave a token of my love
upon the serenity of your face.
So sweetly and softly you inspire my dreams fourfold
and I am carried away into the deepest of dreams
where we are flying through brightly coloured clouds
billowed by the warmest winds.
With our wings arched,
we join our hands, and like cherubs, we twirl
round and round. Our heads back, laughing,
spinning golden braided threads of light.
The heavens are brilliant with colour
as we become one.
One heart, one soul, one love.
encompassing all in our wake,
oblivious to everything but each other,
momentous crescendo's
of passionate embrace.
Simply and magnificiently beautiful.
Our time together is a precious gift
as we join through our thoughts,
words, and feelings.
You will as always remain in me,
delighting me,
exciting me,
reviving me.

And you I.
I look forward to talking to you also.
It seems that you bring a lighter side
from my otherwise dark depths.
I am an introvert by nature,
but you have an almost magical gift
of bringing beauty to the surface,
no matter how hard and deep
that its been buried.
Arise and let's join our spirits in living
a purest love of ethereal hearts.
Kathy Lockhart
11/16/06
Poetry by Kathy Lockhart
Read 1066 times
Written on 2006-12-16 at 16:57

Tags Love&nbsp Dreams&nbsp Expressions&nbsp



Save as a bookmark (requires login)


Write a comment (requires login)


Send as email (requires login)


Print text