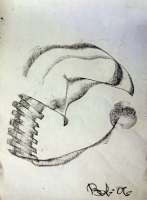 Awakening
Lion roared morning brakes
into soft amber afternoon
with trumpets and lost fighters,
luciferous gestures all gone.

Scampering city pigeons
etch trails to the coming of he
who once walked
with eyes on all ends.

Why must he who wears a crown
be thorned and bleed to shreds?
Why must he who defies dying days
walk alone into their coming?

Birds brave perpendicular days
with beaks bent on praying
for long rainy days to stop
clothing them with twitter.

Poetry by Bob


Read 1077 times
Written on 2007-01-10 at 21:06



Save as a bookmark (requires login)


Write a comment (requires login)


Send as email (requires login)


Print text

Increase font

Decrease