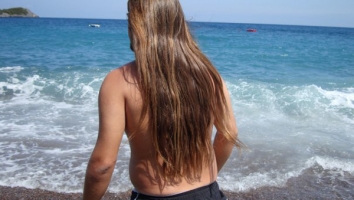 just a sketch of an old friend
The Lover

Let's talk about the lover.
He just goes around and takes on anything,
as if his business in this life
was simply to take on too much,
the more, the better,
since his loving care is simply indefatigable,
as if all his energy just went on growing and expanding
with his busyness; but all his business
is just love, and he knows well his business.
He went wild as far too young,
became subversive as a hippie
which remained his trade all through the years,
at times unrecognizable with hair down to his thighs
and silver earrings with all kinds of necklaces,
at other times unrecognizable as an academician
of complete propriety in costume, necktie,
shaved and short cut, like a bureaucrat.
But he continues taking on all kinds of cases,
schizophrenics, addicts, refugees and outcasts,
championing their cause and giving them a lift-up,
while his love affairs are the best secrets in the world,
since all his love is just discretion.
Poetry by Christian Lanciai


Read 1374 times
Written on 2007-01-12 at 09:48



Save as a bookmark (requires login)


Write a comment (requires login)


Send as email (requires login)


Print text

Increase font

Decrease