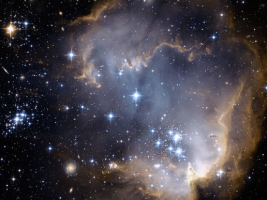 http://www.nasa.gov/multimedia/imagegallery/image_feature_740.html
do you see the infant's face?
Infant Stars of Infinity...
Expanding mighty creation Divine
nurtured beyond years of what we know.
I see the face of infancy
in the womb of God's words aglow.
Twinkle, twinkle celestial stars
speak to me of enlightened birth.
Shine on through infinity
to show your face to Earth.
I am without a single word
to tell of what I feel
It is the wonder of the world
a magical, angelic seal.
Seraphim and cherubim
in the stardust your play.
Bright is your light of purity
through the darkness displayed.
I am but a wisp of a distant thought
in light of your majestic appearance.
I bow down to your royal opulence
muted and awed by your presence.
Kathy Lockhart
1/17/07
Poetry by Kathy Lockhart
Read 883 times
Written on 2007-01-17 at 20:08



Save as a bookmark (requires login)


Write a comment (requires login)


Send as email (requires login)


Print text