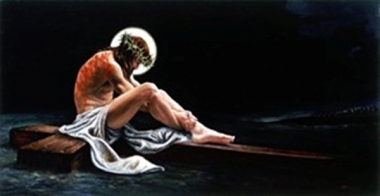 http://www.biblia.com/passion/
Good Friday is two weeks away as is Easter. I wrote this in honor of my Savoir Jesus Christ.
The Love Story
In that moment that it was said,
All the sins of death poured red
From a tree on Golgotha's hill
Purest lamb sacrificed for kill

Father forgive them for their sins;
into your hands my spirit commends

Whipped, Beaten, Crucified
A crown of thorns glorified
Upon the brow of God's own son
As he died he said,
It's done.
In the tomb Christ cannot stay,
Rising in vict'ry Sunday
Hallelujah! death holds no fear
For the loving Savior's near
Hear him call you,
Come to me; I'll give you rest eternally
He is knocking on your door
Heed his message oft implored
All he asks is just one yes
To give to you His Blessedness
Grant to Him just one request
Let Him give you all the best
Will you open your heart to Him
He is waiting.

Just say,
Come in.
kathy lockhart

Poetry by Kathy Lockhart
Read 523 times
Written on 2007-03-23 at 00:49



Save as a bookmark (requires login)


Write a comment (requires login)


Send as email (requires login)


Print text