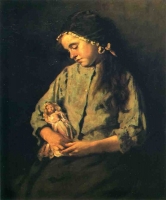 I found this one in my drafts started months ago. I had the first 6 lines done and I finished it this morning not knowing where it was taking me.
Miracles Made (a story of giving)
sad little button laid on a shelf
covered in dust, empty of self
sad little doll missing one eye
no one to see that tear your cry
sad little girl lost and alone
searching for comfort, without a home
happy the angel sent from above
in her arms are baskets of love
watch as you see a miracle made
three sad ones each mislaid
united by love in a basket tossed
a doll, a button, a little girl lost
sew little girl and button place
upon the doll's waiting face
with two eyes she sees you there
crying "mama" shedding tears
button sees a whole new world
through the eyes of doll and girl
each forgotten, discarded, tossed
until the angel saved the lost
now look and you will see
the feather tucked so perfectly
in the sweet girl's flowing hair
and above her head a halo there
for now she is an angel too
holding the doll and calling for you
to help the needy along the way
share your time and then one day
you will see the miracle made
by angels finding souls mislaid.
Poetry by Kathy Lockhart
Read 1299 times
Written on 2007-04-18 at 09:19



Save as a bookmark (requires login)


Write a comment (requires login)


Send as email (requires login)


Print text