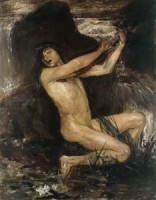 a translation of a Swedish poem by the artist Ernst Josephson (1851-1906)
Black roses


Why are you so melancholy,
you that always were so happy?
– I can not be merry any more,
for sorrow has brought me black roses.

There is in my brain a tree of roses
growing, that will never leave me any peace,
and there is a thorn by every stem
which constantly brings me much pain and ire,
since my sorrow brings me all black roses.

But there is a treasure out of roses,
white as death and red as blood,
that keeps on growing into me,
so that I certainly will perish,
since they keep on fretting at my heart
to fill it up and overwhelm it
with the plague of sorrows of black roses.

Poetry by Christian Lanciai


Read 505 times
Written on 2008-02-14 at 20:45



Save as a bookmark (requires login)


Write a comment (requires login)


Send as email (requires login)


Print text