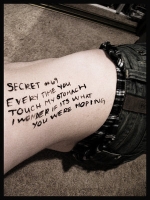 fiction.

photo courtesy of anonymous secret submission.
forget the first star at dusk, i wanna swallow the whole damn sky.
these starving words are like a book.

these pages don't end, the paper just gets thinner, the font gets smaller. i become a run-on sentence, my heartbeat becomes erratic when i purge words. i forget to punctuate. i can't breathe for all your capitals.

these high-fashion magazines with colt-legged models, your sultry smiles and sideways glances, darling, i lost count weeks ago.

this road, these pages, they go on for miles.

bones inked black and white will never be enough. you could peel me back to my arteries and wires, the letters i used to write myself. the fat i sculpted myself out of. "you're too thin." doctors will study my mechanical heart and slick-smooth inkwells. they'll slice open my stomach and empty me of words and half-digested guilt. sew me back into place with a whisper and prayer. it will never be enough.

we want to be thin.
we are so breakable.

this starvation, a prologue.
when does my story stop becoming everything, and when does my body start becoming nothing?

i think i am dying.
and it is still not enough.
i have so much left to say.

i promise i will write you the bare bones. i will write the hollows between ribs, knees pressed into linoleum. i will write bile being reverse-forced through the throat, between the teeth, into the toilet. i will write the faucet dripping, red eyes, doctors' charts. i will write 3,500 calories.

i will tell the story of wishing on the north star, "oh please oh god oh i just want to be skinny."

forget the first star at dusk, i wanna swallow the whole damn sky.

Words by signed.
Read 805 times
Written on 2008-02-26 at 20:42

Tags Anorexia&nbsp Skinny&nbsp



Save as a bookmark (requires login)


Write a comment (requires login)


Send as email

Print text