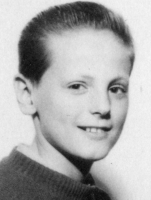 To a dear departed friend


My friend, remain, for thou art so lovely.
Your visits in my dreams
are the most welcome calls of all,
ensuring me that you are still alive
and not just well but in the best of health
and even better than when you were here.
You live in paradise, which you ensure me of,
with all your generosity now breaking greater records
and inviting me to join you on your journeys.
I will always join you, follow you
and keep you on the track
up-dated and turned on as usual
in our love which this year has its 50th anniversary
and still unchanged since we were kids.
The strangest thing with your last visit
was the phenomenon that it was natural
that there was no consideration even of your being dead
while you bewailed your brother,
keeping him in sanctuary in your special chapel
even in his coffin at your central place,
while he is still alive among us
with his family and house and car,
while you made it so clear,
that he was to be pitied and deplored,
not you, the greatest shocking loss I ever had.



Poetry by Christian Lanciai


Read 607 times
Written on 2008-07-10 at 10:31



Save as a bookmark (requires login)


Write a comment (requires login)


Send as email (requires login)


Print text

Increase font

Decrease