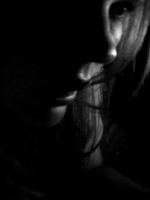 Life is just a series of magical shows,
every new day we come across new tricks.

My life;
the past that is now history,
the present that I know,
the future remains a mystery

Now;
I hope these words will
convey my message,
and my soul will be set free.
Clueless about the future
I continue writing today,
who knows what tomorrow will bring.

Forgotten my path,
I keep walking on that imaginary line
that destiny is now showing.

Every morning is a new life,
and each night is a new death,
the meaning of life.
This is how my life goes.

I am a poet by birth,
yes, not the one my mother gave me,
but the birth that this life gave me.

There's no one to help me
through this journey,
a lonely traveler.
I can do nothing but
cry "Save Me".

You can't kill me or can you
steal these words that I write
Pen and paper I don't use,
the words are the thoughts
that flow through my mind.

Those that remain unexpressed,
those that float in my head.
My words aren't an imagination,
the bitter past of my life
that I can't forget.

I am not what you think,
overcoming the struggles,
I am what life has made.


*


My heart feels lighter
and my lips start to move.
The truth of life,
that we must see and write,
life over death or
death over life
we fail to choose..

Poetry by Louise. J
Read 764 times
Written on 2009-06-11 at 15:39



Save as a bookmark (requires login)


Write a comment (requires login)


Send as email (requires login)


Print text