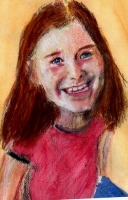 Dare we think to comprehend all the children in our world born to less than we have been accustomed? It doesn't seem fair and we need to remind ourselves of the plight of young children in developing countries and other places who are in need of our advo
Imaginary Play
"Imaginary Play"
For The Children Forgotten and Never Recorded
© 2007 Tom Farrell

Sometimes
I think children come from another world
Perhaps a planet of their own
In a galaxy ten billion miles from this home:
They bring an innocence
An imagination, an unspoiled spirit
That seems it was never meant to last for very long.

And slowly if you leave them to their own devices
And to the vices that this world so aptly shares
Our children learn that innocence is never quite enough,
That imagination cannot feed or cloth or even dress a wound,
That a spirit can be battered and bruised by people
Larger than the size of little ones like them.

Some children are washed away without a second thought
By those in charge of governments and making things alright;
Some, in other places, where rights bestow entitlements to them -
Rank better at having things they need to prosper as they grow,
And some are caught
between what people know -- should be
And those circumstance of time and place
Which cannot promise Hope.

Sometimes I think perhaps
I will build a rocket ship for kids --
Who are destined for the gutter and the newly-fallen rain
To round them up and put them -- all on board
And carry them to that planet in the sky
Where no one in the world will ever harm them
For their innocence and spirit
And imaginary play.

Perhaps today we can celebrate
The goodness that is theirs!



Poetry by Tom Farrell
Read 913 times
Written on 2009-06-22 at 22:32



Save as a bookmark (requires login)


Write a comment (requires login)


Send as email (requires login)


Print text