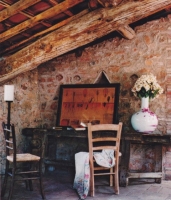 A poem on the Table

So tired you feel,
And I wonder how
Tomorrow can ever
Be warm again.

Left on the table,
Is the poem you wrote,
A poem of despair -
A reason to cry.

As the mountain fell
Onto the hills and crags,
The heavens screamed
In a burst of tears.

A glow in the night
Still burns so bright,
When I hold and read
Your poem on the table.

Poetry by Morpheus
Read 481 times
Written on 2009-10-23 at 04:21



Save as a bookmark (requires login)


Write a comment (requires login)


Send as email (requires login)


Print text

Increase font

Decrease