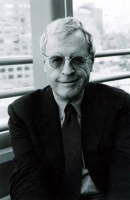 by Charles Simic. For more biographical info please visit: http://www.answers.com/topic/charles-simic
October Arriving
I only have a measly ant
To think with today.
Others have pictures of saints,
Others have clouds in the sky.
The winter might be at the door,
For he's all alone
And in a hurry to hide.
Nevertheless, unable to decide
He retraces his steps
Several times and finds himself
On a huge blank wall
That has no window.
Dark masses of trees
Cast their mazes before him,
Only to erase them next
With a sly, sea-surging sound.

Charles Simic, "October Arriving" from The Voice at 3:00 AM: Selected Late and New Poems. Copyright © 2003 by Charles Simic. Reprinted with the permission of Harcourt, Inc. This material may not be reproduced, stored in a retrieval system, or transmitted in any form or by any means without the prior written permission of the publisher.

Source: The Voice at 3:00 AM: Selected Late and New Poems (Harcourt, Inc., 2003)
Poetry by Editorial Team


Read 787 times
Written on 2010-10-04 at 02:43



Save as a bookmark (requires login)


Write a comment (requires login)


Send as email (requires login)


Print text

Increase font

Decrease