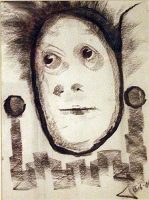 Libation
Libation, late night sensation,
congregation, last stand penetration,
fortification, the sharing of beer
and footnotes of history.
Plato.

Echo of a Spanish guitar,
major, minor?
The rhythm doesn't care.
To be is movement,
speed defines you,
loss is who you are.

Creation, concretization
of thoughts, mastication,
justification, the drinking
and its late night implication.
Dylan.

Poetry by Bob
Read 566 times
Written on 2011-05-07 at 00:18



Save as a bookmark (requires login)


Write a comment (requires login)


Send as email (requires login)


Print text

Increase font

Decrease