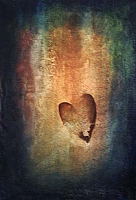 The I and the dream

Who dares the I,
the songs of the heart
so clearly for the giving.
The painting is you,
the shifting colors,
the intensity, the intention.

Well into the weary dead,
a small men vision
dancing tomorrows forecast,
the undead, in the dark,
straws and sticks.

No traveler at rest
can refute the motion of I,
the direction of the land,
the call of the genes,
the impossible dream.

Poetry by Bob


Read 394 times
Written on 2011-05-22 at 22:59



Save as a bookmark (requires login)


Write a comment (requires login)


Send as email (requires login)


Print text

Increase font

Decrease