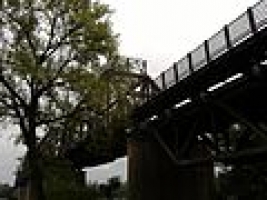 I don't live far from that bridge now, just a few blocks from here, back in the old neighborhood were I grew up, running the streets and playing until nightfall. I hope you enjoy my memory.
The Bridge of My Destination
That old railroad bridge with the train down the middle
and the cars humming along both sides, "rrrrrooom, rrrroooom" reigns
long and high in my memory. There wasn't much room on that big ol' bridge, standing high above the muddy Ohio. I, just looking down below, a scared little child, with eyes wide in wander, knowing I was safe because my daddy and my momma were with us.
I would sit in the back seat of the old black De Soto, hanging tight
to the hand holds, leaning forward as far as I could to see down
between the cracks. "rrrroooom, rrroooom!" across we would
travel on our way to old Louisville, perhaps looking for some shoes
or a new dress or pick up Daddy's paycheck.
Sisters sit next to me, all of us sort of in a trance listening to that sound,
"rrr000m, rrroooom," crossing that ol railroad bridge. And at the end,
Daddy would just salute the man in the tow booth with momma sitting pristine and demure at his side. You see, Daddy worked and the K & I (Kentucky and Indiana Railroad). He was their engineer, running those big trains rumbling
past us like the speed of light, at least to me it seemed.
Momma and Daddy are gone on to their rewards but the ol' railroad bridge
still stands, although cars are not allowed on it. Only trains travel across the Ohio river these days. But, oh to once more travel and hear that soothing sound of the tires traveling to our distination, "rrroooom, rrrooooom!"
Poetry by Kathy Lockhart


Read 994 times
Written on 2011-10-25 at 13:07



Save as a bookmark (requires login)


Write a comment (requires login)


Send as email (requires login)


Print text