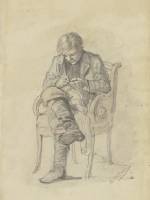 Image by W A Beer 'Young man in a chair' from Wikemedia Commons
A revised poem from a while back; with (maybe) a touch of Robert Frost trying to break through.
Mending a Chair
There is something I like about wood.
As, one morning the chair was there;
just perched precariously upon a pile
of rubble left from our building work;
and where it came from I had no idea,
it had just been left there – an old chair,
waiting to be taken away and crushed.
So, I brought it down for a closer look.
Lifting it told me at once it was oak,
well-weathered, an outdoor chair.
I could see that all that was missing
from its back was a vertical slat,
that I easily replaced from my store.
So, I took the time to sand by hand,
taking care to preserve the grain.
Once smooth I applied a good varnish,
to protect it from future wind and rain.
It's redeemed now, in our garden;
and I'm content to be sitting in it,
my hands resting along the arms;
and I like to think it will outlast me,
and by my doing some practical good,
I've preserved the life that's still in its wood.
© D G Moody 2022
Poetry by D G Moody


Read 145 times
Written on 2022-03-27 at 17:14



Save as a bookmark (requires login)


Write a comment (requires login)


Send as email (requires login)


Print text