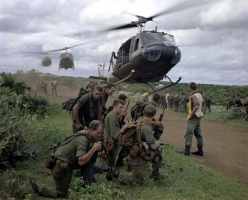 Image courtesy of Australian War Memorial from Wikimedia.
The method of selction for National Service in Vietnam was by picking birthdays.
Conscript
Bazza and I both rolled the dice,
with the numbers our birthdays,
partners in that unlucky lottery.
When it landed I was the one free,
but for him it meant the army.
Some years later I met him again
both drinking in the same pub,
so, I thought we might catch up
the years lost in between;
then I saw his eyes –
and what they'd seen.
© D G Moody 2022
Poetry by D G Moody


Read 102 times
Written on 2022-04-07 at 10:38



Save as a bookmark (requires login)


Write a comment (requires login)


Send as email (requires login)


Print text