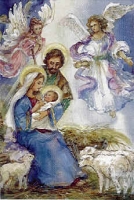 a musical scene that could have happened in an event that changed the world.
A Little Manger Music
He watches her touching the baby's face.
Her tangled hair falls across her tired ebony eyes.
She smiles at the miracle swaddled in her lap.
Then coos a love song as the baby starts to cry.
Your mommy is here my little one
My life belongs to you
I'll rock you in my arms tonight
And hold you the whole night through.
He listens as she sings her song of love
to the new born babe at her nourishing breast.
He lies beside her marveling at this new life,
a life given for the world to be blessed.
He smells the frangrance of the stable hay,
a humble place for such a babe to be born.
The star shines brightly for the whole world to see that
God incarnate lives this glorious morn.
The angels sing, Hallelujah to Christ
The Lamb of God, The Prince of Peace, The King,
The Master, The Alpha and Omega, The Savior,
The Messiah, Maker of Everything.
He holds this baby in his cradled arms
and remembers an angel's message devine.
He falls to his knees, raises the child t'ward Heaven
singing God's praises for all His design.
She watches him kissing the baby's face
His tangled hair falls across his tired ebony eyes.
He smiles at the miracle swaddled in his lap.
Then hums a love song as Jesus sweetly sighs.
Your daddy is here our little one.
My life belongs to you.
I'll follow you the rest of my days
and give you my heart too.
Merry Christmas
Kathy Lockhart
12/21/06
Poetry by Kathy Lockhart
Read 537 times
Written on 2006-12-21 at 05:03



Save as a bookmark (requires login)


Write a comment (requires login)


Send as email (requires login)


Print text