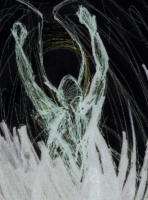 A poem about the resurrection of hope and new life, out of the darkness and the jaws of death.
The resurrection!
Now I am ready for the next step,
to leave all the old things behind.
It's time for me to look forward again,
get rid of whatever kept me blind.

There was a time when I lived in hell,
when I didn't know about tears.
The evil one was my best friend,
I lived in darkness for so many years.

I will never fall asleep like that again,
or be seduced by the taste of blood.
Those days belong to a distant past,
now I want to learn the ways of God.

The moment I felt I was lost forever,
was the moment when I was reborn.
Left alone in the abyss of anxiety,
thanks to the oath I had once sworn.

Out of the misery we ourselves created,
we will find our way out you and me.
From the jaws of death and it's grip,
we will once and for all break free.

I will never be on the wrong side again,
the dark angel was the one I used to adore.
Seduced into a world of magic and illusions,
I became the Devil's always faithful whore.

Now I am ready for the next step,
you showed me there is a way to paradise.
It's time for me to look up again,
beyond the borders of deceiving lies.

Look beyond the horizon of today's death,
feel the power of the universal source.
A new world will arise before you,
the resurrection of the divine force.
Poetry by Freeman
Read 845 times
Written on 2007-02-15 at 17:10



Save as a bookmark (requires login)


Write a comment (requires login)


Send as email (requires login)


Print text

Increase font

Decrease